Get Powerful Program
8 week Strength and Mindset Program
This 8 week strength and mindset program was created for women like you who want to bust through strength plateaus, get stronger, and build your most resilient self
Why this program exists

Feeling stuck or plateaued in the gym? Do you feel nervous, anxious, or uncomfortable when you're in the gym? Unsure how to set achievable goals? I get it! I've been there (many) times before and understand how frustrating it can be to feel like you have a ton of potential and intention but need guidance and support.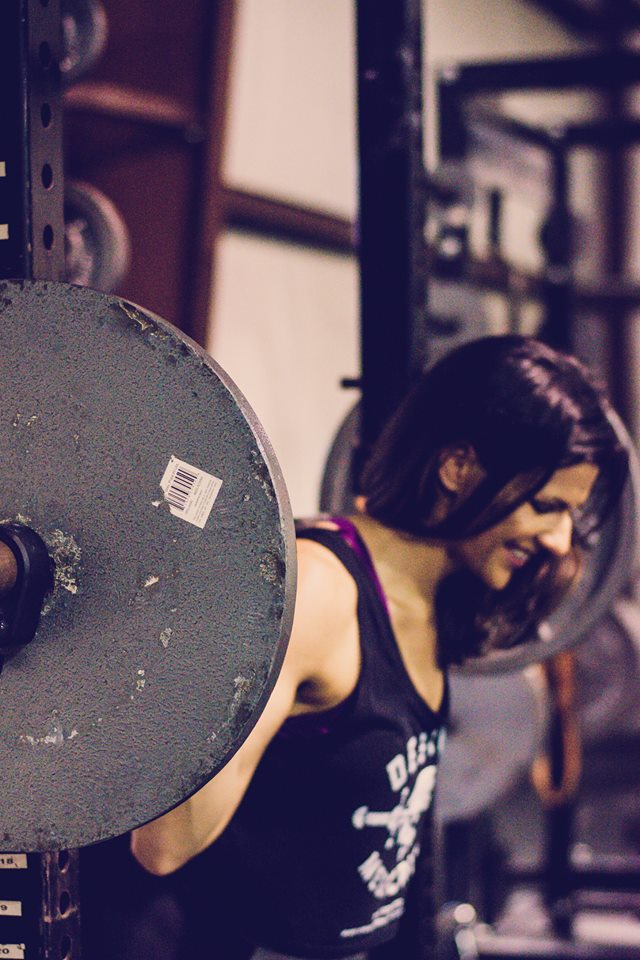 Let me share a little bit of my story...

As someone who had been overweight my entire life, all of my fitness efforts were solely focused on being smaller. I didn't eat a lot and I tried to cardio my way into confidence via a smaller jean size. I was constantly frustrated because fitness felt like a punishment and a reminder that I wasn't good enough.
When I was in college, I fractured my foot due to my overzealous efforts and found myself with a new boot and crutches. I was terrified of gaining weight, of losing momentum, and of not being able to exercise. The only thing I could do was some light lifting so, I printed off a quick workout from the internet, crutched in to the gym, and decided to try out the weight section of the gym. I felt totally out of place and didn't know what I was doing, but I kept showing up anyway because it was all I could. Slowly, my focus started to shifting from shrinking to seeing what I was capable of. Lifting became a form of fitness that I enjoyed and that made me feel empowered. I started competing in strength sports like strongman and powerlifting as way to challenge myself and have even more direction in my workout efforts.
The barbell helped me find a form of fitness that I love, confidence, and a more resilient mindset that has improved my life in and outside of the gym.
And that's what I want to share with YOU!
Fitness doesn't have to be a miserable, defeating experience. If you've found that you love lifting but have felt frustrated with your lack of progress, I'm here to help.
Through six years of countless hours spent in the gym, injuries, setbacks, and breakthroughs, I've learned that working on your physical AND mental strength is key! Cultivating self awareness and learning mental skills to help set goals, reframe bad days, and overcome obstacles have been game changers for me, and they can be game changers for you, too.
I want to help you get stronger, feel better, and learn to stand in your power so you can become your strongest self.
This 8 week strength and mindset program will teach you:
How to lift with great form and technique via a comprehensive exercise library

How to set goals and achieve them through targeted goal setting worksheets

How to get stronger with strategic programming

How to overcome anxiety and self doubt in the gym through 8 weeks of mindset exercises

How to build your strongest body and mind
Who this program is for:

Get Powerful was built for beginner and intermediate lifting women who are frustrated with their lack of results and want to get stronger inside and outside of the gym.
Women who are newer to lifting and want guidance in the gym
Women who are interested in powerlifting-style programming and want directed coaching
Individuals who want a team atmosphere and feel through an online experience
Lifters who want a "personalized" coaching experience without the one-on-one coaching price tag
Women who are intimidated by the process of lifting heavy and want to learn to own their space in the gym
Lifters who feel stuck and plateaued and want to overcome their mental blocks and obstacles
Get strong
Receive 8 weeks of workouts, weekly feedback, and progressive programming to help you build your strongest self.
Get confident
Discover how to overcome mental obstacles, set goals, and build your most confident self through 8 weeks of reflective exercises, goal setting, and focused mindset exercises.
The details

Working out in the gym can be the easy part, but what about the mental blocks and lack of confidence that is holding you back? Unlike other programs and templates, the Get Powerful program is designed to help you build a stronger body and a stronger mind. Through 8 weeks of strategic coaching, programming, and mindset exercises, you'll learn how to maximize your gains in the gym and in your life.
Your resources:

You'll have access to a myriad of resources aimed at helping you become your strongest self, including:
A 8 week program designed to help you get stronger.
An exercise library with video demonstrations and coaching cues for each exercise.
8 weeks of mindset exercises designed to help you build confidence, reflect, and gain resilience.
A goal setting worksheet to help you set achievable, strategic goals.
Special access and discounts for coaching and courses in the future.
Get results
After this program, you will:
Be stronger and improve your PRs on squat, bench, and deadlift

Feel confident and knowledgeable about the fundamentals of lifting and training programs

Own your space in and outside of the gym

Foster a supportive community of like minded badass women

Feel confident and resilient in navigating setbacks and obstacles

Have a toolbox of tools to help you continue to foster your new stronger mindset
Your Mindset Modules

Week 1: Goal Setting
Week 2: Gym Basics
Week 3: Deconstructing Negative Narratives & Self Awareness
Week 4: Living Like An Athlete - Recovery Basics
Week 5: Reframing
Week 6: Visualization Practices
Week 7: Performance Rituals
Week 8: Confidence & Taking Action
Frequently Asked Questions
How does the program work?
You can sign up at any time and work through at your own pace! Life happen and need to take a break from the gym? Going on vacation? No problem! Because this program is self-paced, you can adjust your schedule to fit YOUR needs without missing a beat. You'll have access to the closed FB group to post questions, receive video feedback, and get some bonus trainings/content, and connect with fellow Get Powerful program members!
How long do I have access to the program and materials?
How does lifetime access sound? After enrolling, you have unlimited access to program materials for as long as you like - across any and all devices you own.
What if it isn't a good fit for me?
Unfortunately, we are unable to refund your purchase after your enrollment. If you have any additional questions or concerns on if this program is right for you, please contact Gabby at
[email protected]
Bonus!

You'll also get a free copy of my Nutrition 101 PDF with your enrollment in this course!
Learn the basics about nutrition and how to implement nutrition that fits your lifestyle. Build habits, fuel your workouts, and make nutrition feel like freedom.